Ultima Vez – Traces
Friday 26. 5. 2023
20:00
large auditorium
Tickets available via Archa Theatre and GoOut.cz
After the performance of Traces on Saturday, you can look forward to a debate with dancers from the Flemish company Ultima Vez. It will be the only debate during their visit to Prague, so don't miss it! The talk will take place in English.
As part of the final season of Archa Theatre called The Cornerstones of the Future, Archa Theatre's long-term exclusive artistic partner, the progressive Flemish dance company Ultima Vez, returns to its stage with TRACES, choreographed by world-renowned director and choreographer Wim Vandekeybus.
In TRACES Wim Vandekeybus follows the traces he has left. He looks back on the intuitions from where his search began: to the drama of impulses and instincts; to the game of energies and intensities. Vandekeybus searches for traces that are older than mankind and his memory. For 'the inner story', for the story that unfolds beyond language and can only be told in the pulses of dance and music. The music is composed by Trixie Whitley, Marc Ribot, Shahzad Ismaily, Ben Perowsky and Daniel Mintseris.


Credits
DIRECTION AND CHOREOGRAPHY: Wim Vandekeybus
CREATED WITH AND PERFORMED BY: Alexandros Anastasiadis, Borna Babić, Maureen Bator, Davide Belotti, Pieter Desmet, Maria Kolegova, Kit King, Anna Karenina Lambrechts, Magdalena Oettl, Pjotr Nuyts and Mufutau Yusuf
MUSIC COMPOSED BY: Marc Ribot, Trixie, Whitley, Shahzad Ismaily, Ben Perowski and Daniel Mintseris
MOVEMENT ASSISTANT: German Jauregui and Iñaki Azpillaga
STORYLINE: Wim Vandekeybus
DRAMATURGY: Erwin Jans
COSTUME DESIGN: Isabelle Lhoas
ASSISTED BY: Isabelle De Cannière
SCENOGRAPHY: Wim Vandekeybus and Tom de With
SOUND ENGINEER: Schröder
LIGHT DESIGN: Wim Vandekeybus and Francis Gahide
LIGHT ON TOUR: Benjamin Verbrugge
BEAR COSTUME DESIGN: Jan Maillard
SCENE PAINTINGS: Patrick [Bob] Vantricht
PRODUCTION: Ultima Vez
COPRODUCTION: Europalia Romania, Concertgebouw Bruges, KVS Brussels and La Rose des Vents Villeneuve d'Ascq

WORLD PREMIERE: December 8th 2019 at December Dance / Concertgebouw Bruges

WITH THE SUPPORT OF: Tax Shelter measure of the Belgian Federal Government, Casa Kafka Pictures Tax Shelter empowered by Belfius.
Ultima Vez is supported by the Flemish Authorities & the Flemish Community Commission of the Brussels Capital Region.
CoF
Cornerstones of the Future
The Cornestones of the Future display presents throughout the year 2023 the works of artists who created a unique profile of the Archa Theatre and at the same time did not stop in their work in search of new themes and ways of expression. We offer a unique selection of foreign and domestic titles, and we will make the unique archive of Archa Theatre available through a multimedia installation.
Partners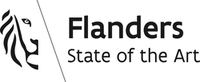 Flanders — State of the Art